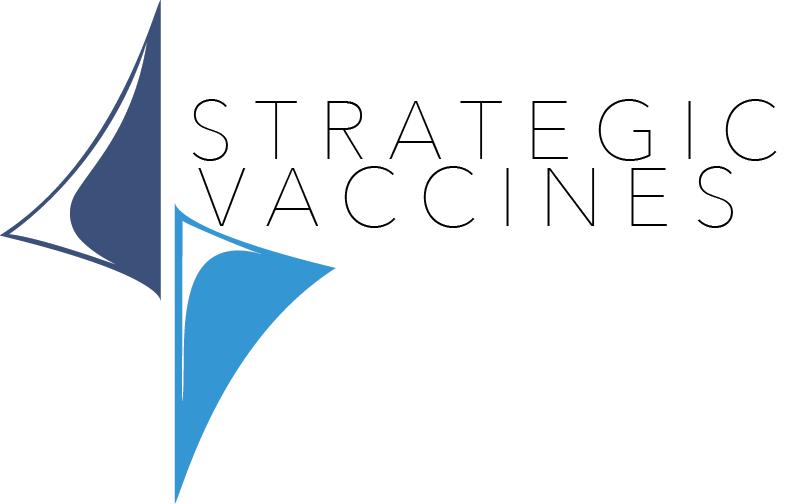 Positioned to Solve the World-wide Pandemic Existential Crisis
Reid Rubsamen, MD, CEO and founder of Strategic Vaccines and Flow Pharma – (Berkeley, AB Biochemistry & Computer Science; Stanford, MD & MS Computer Science; Harvard Mass General, Anesthesiology Residency; MIT, NIH funded fellowship Computer Science; Harvard Master in Healthcare Management; 71 issued US patents) – Twenty years ago, after developing inhaled insulin delivery for diabetes – Dr. Reid Rubsamen formed Flow Pharma Inc, an R&D company, to begin the research ultimately resulting in a revolutionary targeted killer T-Cell vaccine platform ten years ago to treat cancer and viruses that he believed would not be defeated by 20th century antibody platforms (PMID: 24912025).  It's what you do with degrees that matters.
When COVID-19 hit American shores in March of 2020, Flow Pharma formed Strategic Vaccines LLC to deploy Dr. Rubsamen's revolutionary targeted killer T-Cell platform which was ready and available to defeat COVID-19.  At that time government agencies concerned for public health were focused on Big Pharma. Antibody vaccine platforms were viewed as the most expedient warp speed path, based on historical data and existing faith in antibody platforms. This was also prior to information now being reported that SARS-CoV-2 was lab engineered, and inadvertently got loose.
After Flow Pharma developed an Ebola vaccine successfully tested in mice at the Galveston US National Lab,  the US Department of Defense awarded contracts in 2018 to Flow Pharma to make a targeted T-Cell vaccine to combat Marburg, a weaponized version of Ebola, "to protect warfighters."  When COVID-19 became obvious in March of 2020, Flow Pharma was prepared to quickly design and manufacture a vaccine for COVID-19, also successfully tested at the Galveston National Lab, this time in rhesus macaques, which have the closest immune systems to humans. Each of the Galveston studies was published in peer reviewed journals (PMID: 32418793, PMID: 34070152). So Flow Pharma formed Strategic Vaccines LLC to deploy Dr. Rubsamen's targeted killer T-Cell platform which was ready and available to defeat COVID-19. 
WHERE ARE WE NOW:
Reduced sensitivity of SARS-CoV-2 variant Delta to antibody neutralization: Article Published: 08 July 2021; "The SARS-CoV-2 B.1.617 lineage was identified in October 2020 in India…It has since then become dominant in some Indian regions and UK and further spread to many countries…Variant Delta was resistant to neutralization by some anti-NTD and anti-RBD mAbs including Bamlanivimab, which were impaired in binding to the Spike."

Jun 25, 2021 — TEL AVIV TEL AVIV—About half of adults infected in an outbreak of the Delta variant of Covid-19 in Israel were fully inoculated with the Pfizer Inc.

vaccine, prompting the government to reimpose an indoor mask requirement and other measures to contain the highly transmissible strain.

Pfizer Vaccine Less Effective Against Delta Infections but Prevents Severe Illness, Israeli Data Show

, by Dov Lieber, updated July 6, 2021. Preliminary findings by Israeli health officials suggest about 90% of new infections were likely caused by the Delta variant, according to Ran Balicer, who leads an expert advisory panel on COVID-19 for the government. Children under 16, most of whom haven't been vaccinated, accounted for about half of those infected, he said.
Tweaked 20th century antibody vaccine platforms are not a long-term solution for COVID.  Strategic Vaccines' revolutionary targeted killer T-Cell therapeutic/vaccine, FLOVID-201 is a single dose, room temperature stable, self-administered inhaled vaccine that causes killer T-Cells to target the static nucleocapsid protein inside the constantly mutating COVID-19 virus.
The biggest threat of COVID-19 right now, and moving forward, is the "variants" (PMID: 33971305, PMID: 34162970). COVID-19 is a shape shifter: it can change its appearance in a way that blocks the action of antibodies so that antibody vaccines and therapies can fail to neutralize the virus. By now, everyone has heard of the "Delta" variant which is breaking through existing vaccines and infecting vaccinated people. This is a big concern to us, and reliance on only antibody vaccines and therapies should be a concern to everyone.  We are going to see more variants (and more deadly consequences) so long as we continue to rely only on antibody vaccines for protection.
Strategic Vaccines specifically developed the revolutionary FLOVID-20 to defeat SARS-CoV-2 which must include the variants. FLOVID-20 is a synthetic T-Cell vaccine, and the only vaccine which can be used as a therapeutic to arrest the progression of COVID-19 as soon as someone tests positive.  FLOVID-20 offers the following game changing attributes:
Inhalation self-administered (no needles), one dose, always room-temp stable (projected shelf life 2 years).
100% US-sourced synthetic readily available components.
All FLOVID-20 platform components have been previously used in FDA approved vaccines and pharmaceuticals.
FLOVID-20 is distinctly more scalable than other SARS-CoV-2 therapeutics in development (because the microsphere manufacturing process does not involve small molecule synthesis, the production of antibodies or RNA), and Strategic Vaccines is thoroughly prepared to scale up manufacturing.
The ability to arrest COVID-19, when used as a therapeutic immediately in victims as soon as they test positive.
Targeting a portion of the virus that is not mutating to defeat COVID-19, the Delta variant and future variants.
Uniquely positioned to provide help for millions of long haulers who may be harboring infected cells. Vaccinated individuals infected with Delta are at risk for long-hauler symptoms whether or not they get sick right away.
WHY STRATEGIC VACCINES IS POSITIONED TO RESOLVE THE WORLDWIDE PANDEMIC EXISTENTIAL CRISIS.
Flow Pharma's T-Cell vaccine platform developed in 2010 is supported by patents issued in the US, the European Union, Australia and Canada.  The platform was used to create Ebola and COVID-19 vaccines both successfully tested in animals at the Galveston US National Lab, resulting in two published peer reviewed articles. US Department of Defense contracts were awarded in 2018 for manufacturing and animal testing to make a T-Cell vaccine to combat Marburg, a weaponized version of Ebola, "to protect warfighters."
Flow Pharma formed Strategic Vaccines to use its REVOLUTIONARY T-Cell vaccine platform to combat COVID-19 and future viral threats – so in the spring of 2020 was ready, to design, manufacture and test FLOVID-20.
FLOVID-20 is made from synthetic components available in the US and from trusted allies.  It is always room temp stable, and one dose self-administered by inhalation.  Because FLOVID-20 can reliably target killer T-Cells to penetrate the outside cover of the virus and attack a static area inside to continue to defeat SARS-CoV-2 and its variants – FLOVID-20 is THE revolutionary 21st century vaccine platform to defeat a 21st escaped engineered deadly virus.
FLOVID-20 is currently being produced at Oakwood Labs, a cGMP manufacturer, in Solon, Ohio a Cleveland suburb. Sufficient doses have been manufactured for testing in humans as a therapeutic. Oakwood Labs, one of the few labs in the US specializing in manufacturing microsphere drugs like FLOVID-20, stands ready to produce substantially more doses.  Further, Strategic is prepared to scale up production on machines optimized by Lockheed Skunk Works for worldwide distribution at the Texas A&M Center for Innovative Advanced Development and Manufacturing (CIADM) site at College Station, Texas, one of the Operation Warp Speed vaccine manufacturing sites.
Critically tested

management team

is in place to make certain manufacturing and testing are done to rigorous standards. Production scale up is ready to proceed to support worldwide distribution immediately with FDA approval.
Dr. Reid Rubsamen, in the past, has conducted Phase I clinical trials in Australia and, like many other US Pharma CEOs, recognized the financial, regulatory and operational benefits of conducting Phase I trials there.  In 2018, he set up Flow Pharma Australia PTY LTD to take full advantage of these opportunities.  Strategic Vaccines is working with prominent experts in Australia to initiate Phase I clinical testing for FLOVID-20 in the immediate future.
Extensive material information to support all statements herein is available  in Strategic's data room maintained by K&L Gates, Strategic's law firm.  Management will be totally transparent, there are no bad questions.
1 – FLOVID-20 is under development and requires FDA approval.